POOL DECKS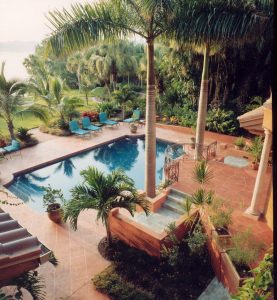 Pool decks are a great way to enjoy outdoor living and relaxation. But are you spending more time cleaning and maintaining your pool decks than leisurely enjoying them? Then you need Pro Tile, a decorative concrete surface that is very easy to clean because it is non porous.
Pro Tile is a unique product used to finish exterior surfaces such as pool decks, driveways, lanais and patios. Being non porous, it remains mold, mildew and stain resistant. This allows you to spend more time with your family and friends and less time cleaning your pool decks.
Whether you are creating a new pool deck or re-surfacing an old one, Pro Tile's versatility of design, color and texture that can be used in various combinations, provides you with a design potential that is nearly endless.
Each Pro Tile installation is customized according to the client's specifications to create unique and dramatic effects allowing you to create a one-of-kind-deck specifically designed to fit your needs.
Through industry experience, customer understanding, and employee dedication, our family owned and operated business consistently provides the best customer service. Pro Tile prides itself on innovative and individually customized pool decks, paying close attention to craftsmanship and detail – that's what sets us apart!

Call (800) 771-9398 now or visit our showroom. We'll offer you professional, friendly, and objective advice on decorative concrete pool decks, lanais and patios.
Why Choose Pro Tile for your Pool Decks? 
Not just 1, but 4 good reasons!
Gives new life and style to existing surfaces since it can go over old or new concrete.
Being non porous, your pool decks remain mildew and stain resistant making them very easy to clean. Even your pool chemicals won't damage your Pro Tile pool deck.
Adds architectural interest with color, pattern, and texture to give you one-of-a-kind pool decks specifically designed to fit your décor.
Your pool decks, lanais and patios can be as elegant as your home's interior.
The aesthetic appeal of Pro Tile pool decks has satisfied many customers from Sarasota, Bradenton, Siesta Key, Longboat Key, Casey Key, Lakewood Ranch, Venice, Osprey, North Port, and Englewood.
In addition to it's use on pool decks,  Pro Tile is also used on driveways, condo walkways, water parks and custom applications.