CONDOMINIUM WALKWAYS
Are your condominium walkways covered with carpeting that is subject to mold and mildew? Would you like a more attractive look for your condominium walkways? Perhaps you are interested in a decorative concrete surface that is non porous making it easy to clean and maintain and can be applied to existing concrete walkways
Look no further! Pro Tile is a high quality decorative concrete surface product designed for high traffic areas and is perfect for condominium walkways. Pro Tile bonds securely and becomes an integral part of your concrete. It is entirely hand troweled, offering freedom of design that is flexible and versatile.
Pro Tile is used in many commercial or residential areas, where a protective, decorative surface is desired. Its primary applications are exterior surfaces such as condominium walkways, pool decks, driveways, patios, etc. Pro Tile provides an extremely hard, dense, water-resistant surface with long lasting beauty and durability.
With 20 years experience the Pro Tile team offers the best blend of efficiency, reliability, price and ease of installation. Our happy customers take pride in their Pro Tile designed condominium walkways.
A few of our Condominium Walkways can be seen on the following Siesta Key, Florida condos: Gulf & Bay, Island Reef, The Pointe, Hidden Lagoon, Vista Hermosa and Pompano. We will be happy to provide you with references.
Through experience, understanding, and hard work, our family owned and operated business takes pleasure in knowing that each project entails innovative and individually customized ideas, performance and detail. Pro Tile will design condominium walkways to suit your specific needs.
Give us a call at (800) 771-9398 or visit our showroom. A Pro Tile representative will offer you professional and friendly advice on condominium walkways, decorative concrete, pool decks, lanais, and other exterior surfaces.
Why should you use Pro Tile on your Condominium Walkways?
It is a decorative and protective surface that provides an aesthetic solution to many surface repairs and renovations.
Pro Tile is structurally stronger than concrete to provide a durable surface for all high traffic areas.
Being non porous, it is easy to clean and maintain.
Pro Tile bonds securely and becomes an integral part of your concrete.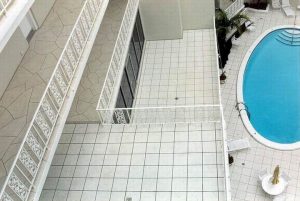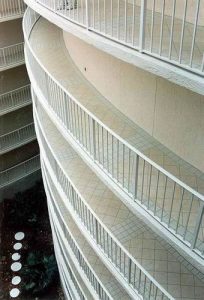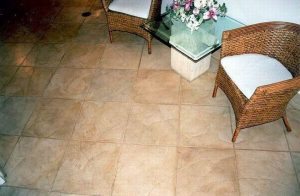 If you are interested in condominium walkways that are built to last then Contact Pro Tile at (800) 771-9398 for a free estimate or visit our showroom. We all transform your condominium walkways into a decorative masterpiece!
In addition to it's use on pool decks,  Pro Tile is also used on driveways, condo walkways, water parks and custom applications.