CONCRETE RE-SURFACING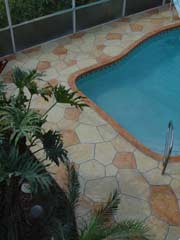 From Oz's yellow brick road to the cobblestone streets of Europe, colorful and textural walkways have always attracted our sense of adventure and romance. Why not bring this kind of beauty and magic to your home with concrete re-surfacing that can transform any driveway, walkway or decking into something special.
Concrete re-surfacing lets you redo or refresh your concrete surfaces with a range of colors and patterns without the expense of breaking up the concrete underneath. By using your existing surface, the Pro Tile experts save you money and time. And, not only do you get a new look for your home, you get easy maintenance with a surface that resists molds and staining.
While many companies can offer concrete re-surfacing techniques such as concrete stamping and concrete staining, coating and painting, Pro Tile takes it to a higher level by creating a sealed surface that is easy to clean and resists even the toughest stains like motor oil.
Concrete Re-Surfacing Techniques

Our exclusive, cementitious product (Pro Tile by Pro Tec International, Inc.) combines additives with aggregates to provide a surface with high compressive strength. Pro Tile bonds to your existing concrete and offers a variety of options in color, texture and pattern. Pro Tile product and application system gives you virtually limitless options for finishing your driveway, walkway or pool deck in style.
The application of Pro Tile is done completely by hand by experienced artisans. Each of our professionals is trained to be the best, and your satisfaction with their work is guaranteed.
Whether you want to add just a subtle hint of color to your walkway or create a multi-hued flagstone terrace around your pool, Pro Tile's concrete re-surfacing will help you achieve your vision of beauty and easy maintenance.
Concrete Re-Surfacing Options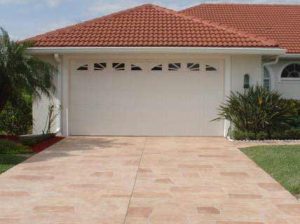 There are many options for improving the exterior look of your home with concrete re-surfacing. Among the most popular options for concrete re-surfacing are driveways, walkways and pool decking.
Driveways
What look do you want to create? What impression do you want to make? Your driveway is the place to do it. There are many options for concrete re-surfacing in terms of color and pattern for your drive — virtually any look can be created to complement or accent your home. And remember, easy Pro Tile maintenance means oil stains and other spills clean up easily.
Driveways photo gallery
Walkways
Concrete re-surfacing lets you create walkways that are welcoming and attractive. Our professionals will show you the options for color, texture and pattern that can transform your existing walkways into things of beauty.
Pool Decks and Patios
Enjoy outdoor, Florida living at its best with a concrete finished pool deck or patio. Bring color and artistry to these outdoor spaces and don't worry about spills food or drinks—Pro Tile offers a sealed surface that is easy to clean.  Pool decks photo gallery
Serving Greater Southwest Florida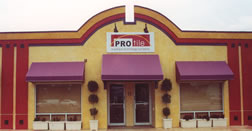 Pro Tile creates new, beautiful and stain-resistant finishes for driveways, walkways, patios and pool decks in the following Florida communities: Sarasota, Bradenton, Venice, Osprey, Longboat Key, Lakewood Ranch, Lido Key, Siesta Key, Casey Key and Englewood. Learn more about Pro Tile's concrete finishing options today view our Pro Tile Video
Call Pro Tile to learn how economical it is to improve the appearance and maintenance of your concrete surfaces.